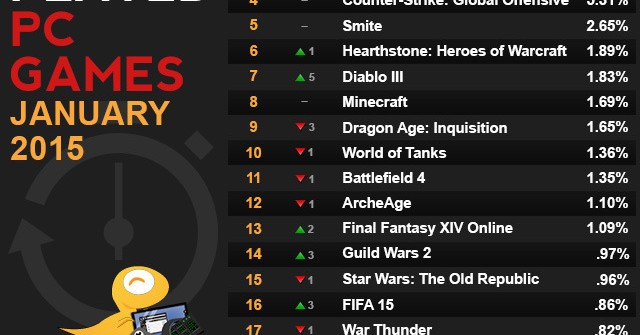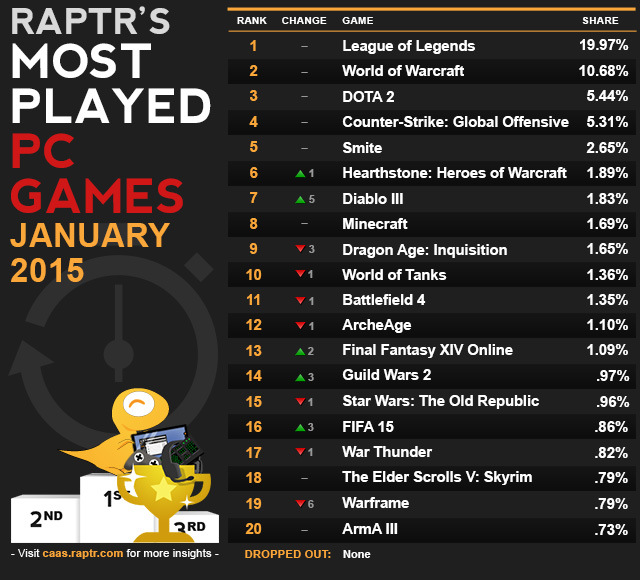 According to a research report by Raptr, eSports games League of Legends, World of Warcraft, Dota 2, Counter-Strike: Global Offensive, Smite and Hearthstone: Heroes of WarCraft continue being the most played PC games heading into 2015.
League of Legends leads the pack with a whopping 19.97% of the PC game playing share, almost double the amount of players than second place World of WarCraft, which has 10.68% of the share, and almost three times the amount of third place Dota 2, which has 5.44% of the share.
Dota 2 (an increase of 23.18% playing time) and Counter-Strike: Global Offensive (an increase of 37.23% playing time) gained a lot of play time compared to Raptr's previous month research. Raptr stated that this was due to various item and map updates that Dota 2 and Counter-Strike: Global Offensive added throughout the month.
A relative newcomer to eSports that has attracted a lot of attention and achieved a very high placement since its release in March, 2014 is Smite. It also had an increase of 1% of playing time, holding its place in the top 5 most played games.
Diablo 3 was the biggest rising star among the top 20 most played PC games, with an increase of 77.27% playing time bringing it five spots higher than in the previous month. Raptr mentioned the probable reason being loads of Diablo 3 updates released in January 2015, including patch 2.1.2, major updates to classes and items, and the addition of Season Legendary Items among others.
Warframe was the game with the biggest drop in January 2015, falling six places to take the nineteenth position (a fall in 17.89% of playing time). This wasn't due to negligence either: the game had a few additions throughout the month, including new weapons, skins as well as a new mini game.
Raptr's research reflects each game's playing time "as a percentage of the total time spent on all the PC games played by Raptr members, and is useful for comparing the relative amount of play time between particular games."
Exclusive Blog Post Bonus: Click here to get access to a free report on how to launch your pro eSports gaming career »