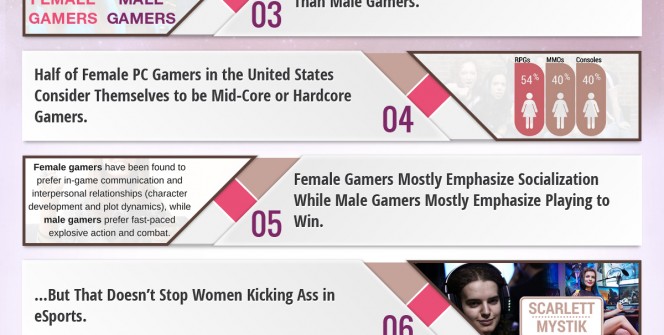 What Is the Addiktz Female Gamer Scholarship?
If you're a female gamer aiming to go pro either as a popular entertainer (e.g. Twitch streamer, YouTube gamer), or as a professional eSports athlete, Addiktz is offering you a supportive $1,200 scholarship to help you get where you want to be.
More about the Addiktz Female Gamer Scholarship below this 13 Female Gamer Facts infographic…
Why Is Addiktz Offering This Scholarship to Female Gamers?
The gaming world has experienced a big shift. If once female gamers accounted for 20-30% of the gaming population, today female gamers and male gamers share more or less an equal share of the gaming market. Moreover, specifically in the last 5 years, there's been a boost in the amount of female gamers. In some countries today, female gamers even outnumber male gamers.
However, while there has been a sharp rise in the amounts of female gamers, a lot of development still needs to be made in the attitudes toward female gamers. Sexism and sexual harassment toward female gamers has never been as pronounced as it is today. In 2014, 65% of women reported harassment and statistically received 3 times as many derogatory or insulting remarks than men. Moreover, in the gaming industry, women still get paid less on average than men, whether as developers, designers or as audio professionals.
These reasons, together with the fact that anyone pursuing a career as a gaming entertainer (Twitch streamer or YouTube gamer) or as a professional eSports athlete can use all the support available. This is why Addiktz is offering a $1,200 scholarship to female gamers who aim to go pro as either gaming entertainers or as pro eSports athletes.
When Is the Addiktz Female Gamer Scholarship Available?
Applications for the scholarship close on May 31, 2016.
Successful applicants will be personally notified and promoted on Addiktz.com by June 20, 2016.
How to Apply for the Addiktz Female Gamer Scholarship
To apply:
Create your Addiktz user profile

here

.

Fill out

this questionnaire

.
What We're Looking For in a Successful Applicant
User Profile:
Treat your user profile like your professional bio and CV. 
After you create your Addiktz user profile, go to your profile page, and fill out the following fields:
Display Name: Your gamer name
Custom Photo: A photo of yourself
About/Bio: Include info about the following:
Your specific genre of gaming or game
Where you are from
(Optional) A positive quote about you in relation to being a gaming entertainer or eSports athlete from a contact you have made through your gaming
What are you doing at this time? Mention a current activity you are involved with. If you're a streamer, then you could write your streaming schedule and amount of followers. If you're an eSports athlete, then your could write tournaments coming up you're planning to compete in. In other words, a reason why the bio has been written should be clearly stated early on. Hints about any promotional activities that will be occurring to support your activities is also useful in this paragraph.
Any other background info on your activities, past experience, achievement and aspirations can be addressed. If you've developed a plan for your career path, additional paragraphs elaborating on this plan can be written, showing how your current project is part of a larger career development plan.
Questionnaire:
Treat the questionnaire like you're being interviewed by a magazine on your activities, past experience, achievement and aspirations. It is very similar to the "Long Bio" above, but directed with specific questions.
Here is the questionnaire:
FAQ
What kind of success do I already need to have as a streamer or as an eSports athlete in order to apply?
– None. If you have no significant activities to show on your CV/profile, then you only need to show that you have a desire to progress in either one or both of those directions. Your desire to progress should ideally be presented as a plan that you aim to realize. For more information and tips on how to create your plan, check out the eBook, Jumpstart Your Pro Gaming Career: The Purpose Driven Success Mindset That Will Make Your Pro Gaming Dreams a Reality or the Udemy course, Become a Pro Gamer (eSports Athlete). Also, check out these related posts on our site:
Tips in the following posts can be used as a foundation for building your streaming plan:
Is there an age limit?
– No. You can be as young as zero, or as old as a thousand.
Do I really need to be a girl to apply? How can I participate if I'm a man?
– Yes, you need to be a female to apply. If you're ineligible to apply for the scholarship, and you support the reasons why we're running it, then we'd greatly appreciate your participation in supporting this scholarship by:
Giving the page a Like and a rating

Sharing it on Facebook

Tweeting about it

Emailing it to any female gamers you know who you think could be eligible

Supporting female gamers in general
Do I need to specifically be an aspiring professional streamer or eSports athlete to apply? What if I'm a female gamer who wants to enter the gaming industry as a developer, designer, manager, or any other role?
– We are emphasizing aspiring female gaming entertainers and eSports athletes in this scholarship because these are less established careers. They have only gained awareness as full time careers in recent years. The amount of people who can hold such careers are still very low compared to the amount of traditional gaming industry roles that you mentioned.
There is not as much standardization to enter these careers, e.g. established university courses, and so anyone who wants to become a professional gaming entertainer or eSports athlete has less sources of support than someone who wants to enter a traditional gaming industry role (developer, designer, etc.).
This is one of the reasons why we are holding this scholarship for female gamers aspiring to become professional gaming entertainers or eSports athletes.
However, we recommend that you create a user profile on our site, and keep updated with future developments. This female gamer scholarship is one of many support programs Addiktz is running, and if you're signed up, you'll be the first to know of any future support programs we will run. If we see enough of a demand for female gamers in the traditional gaming industry, then we might just launch such a scholarship as well.
Will I need to do anything in particular with the scholarship money?
– No. It's yours to do as you wish. However, we do aim to select applicants who sincerely wish to dedicate themselves to improving themselves as gaming entertainers or as eSports athletes, so we hope that the scholarship money will help you achieve your goals.