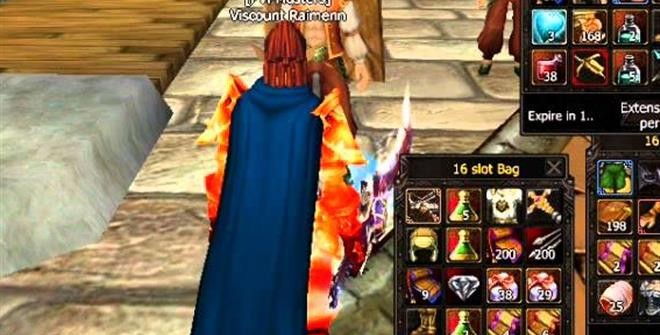 Genre: MMORPG
Developer: Gameforge
Tips on the 4story upgrade cap, upgrading magic scrolls, upgrading support CS items, upgrading success rate, and more.
4story money making guide with tips on basic looting, AoE, docs and special documents, the second battle, the Arahur Rampart War Declaration, the Narwashi-Battle War Declaration, stones, materials and optioned items, dungeons and more.
4story wizard guide with tips on wizard skills, combat adn PvP, wizard "builds," cold skills, lightning skills, strategies for boss battles, solo battling, and solo "mobbing," and more.
4story online warrior defense guide with tips on leveling, skill builds, basic skills, attack skills, defense skills, stances, equipment, weapons and armor, PVP, PvE and more.
Detailed summoner guide covering summoner skills like mana of shock, explosion of mana, disturb, mana's afterimage, expansion of fatigue, shout of chaos, lazy heart, provoke, blunt blade, block skill, fury of land, judgement of nature and more.
4story priest guide with tips on priest creation, equipment, features, healing and more.
4story assassin guide covering assassin classes, races (Werebeast, Human, Fairy), weapons (swords, chakrams, bows, crossbows), armor, accessories, skills (hide, surprise attack, heartless blade, one hit one kill, battle tree, etc.), strategies and more.
4story archer guide with tips on leveling, skill builds, survival, equipment, accessories, combos and more.
4story Online grinding tips for the beginner stage (level 1-18), intermediate stage (level 19-33), and the expert stage (level 34+).
4story leveling and farming guide with tips on the popular grind spots in various maps, fast ways to make money farming the battle maps, and more.
4story hunting and dungeon guide with tips on what to do in levels 8-21, 22-25, 26+, 19, 29, 39, 49, as well as class skill suggestions and tips on soloing and parties.
This guide contains everything you need to know about the Coliseum Tournament, including tips on the monthly honor system, the Coliseum Tournament system, the regulation to participate in the tournament, rules and terms of the tournament, an important reminder when claiming your tournament rewards, and special events for all tournament spectators.
4story Online mission battles guide contains info on how to enter the mission area, how to kill the boss, the corps map, grinding tips, PvP and a glossary.
Aelita Summoner of Craxion talks about what pets are good to get. Very detailed.
Info and tips on Master Shin, a giant fairy that lives inside a large mysterious mushroom.
4story territory wars guide containing info on what territory wars are, their setup (the 3 villages/territories in each area: Chesed, Ardri Prairie, Geburah, Taikonteroga Swamp), who can participate, where to go to participate, how to take over territories, the goals of territorial takeover, the benefits of territorial takeover, and how to get your territorial takeover rewards.
4story refinement guide with refinement basics, advanced refinement and item option transfer information, what are the benefits and reasons for refinement, what you need for refinement, how you can increase your success, refine your weapons, and more.
Some good tips in here, like the ones about the summoners.
Genre: MMORPG
Developer: Gameforge
Learn how to be a better wizard/mage.