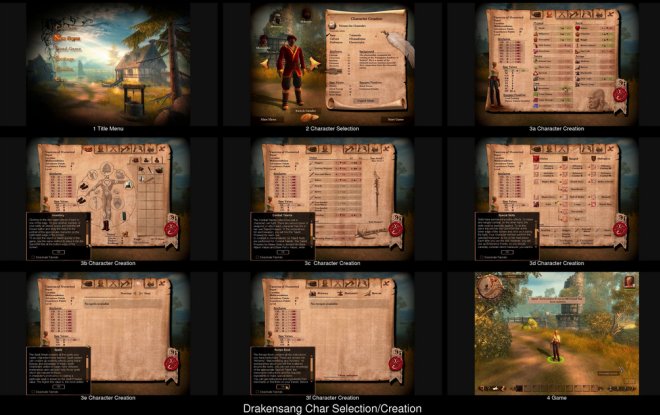 1. Drakensang Online Walkthrough Strategy Guide
A quick start guide explaining Drakensang's characters (Dragonknight, Spellweaver, Ranger), as well as basics on how to play, leveling, skills and shopping.
2. Drakensang Online: Tips, Tricks and Strategies
General tips, tricks and strategies for Drakensang by Gameru, including the challenges of playing Drakensang online, things Gameru likes about Drakensang, its basic gameplay, as well as Gameru's top user questions.
3. Drakensang: The Dark Eye Game Guide
Drakensang tips on lockpicking and pickpocketing, looting, talking, fighting, partying, magic and workshops.
Learn the details of farming in Drakensang. Continue the beginner guide to Drakensang with multiple Drakensang tips pages.
Master Drakensang with this collection of Drakensang guides covering classes, calculations, experience, PvP, the experience tree, the fame tree, guilds, updates, badges of honor and rank, voucher codes, a guide to the HUD of Drakensang, Drakensang Optimizer, the knowledge tree, crafting, DSO Wiki basics and more.
6. Drakensang Online – Pro Tips 1
A video collection of Drakensang tips, including how to farm snow essences from snowmen, what to do after you run out of snow essences, how to waste a mortis bug, as well as a bad tip on how to lose a friend by giving him/her a bad tip 🙁
7. Drakensang Online: Gorga Tips
This is how you kill Gorga in Drakensang, how you avoid Gorga's attacks, how to kill spiders effectively, tips on deluge and jellyfish.
Not much here for now. It's a forum thread where members are requested to add their tips. Maybe it'll pick up soon. For now, it's worth a scan for some beginner tips on willpower, and why and for which characters you should stock up on bandages and "treat poison."
9. Best Drakensang Online Beginners Guide
It does a good job of living up to its name. It's the most detailed guide for Drakensang beginners we found. From basic game descriptions, to points on character creation, what characters are "better," recommended first steps to take, hotkeys and controls, menu buttons, the essence bar, combat tips, looting tips, quest tips, tips on changing zones, towns and dungeons.
10. Drakensang: The Dark Eye Cheats
Drakensang cheat codes. To get the "Mask of the Master" which have +2 charisma speak to "Erna Rübenfein" in Avestreu (before you go into Ferdock, next to the soliders at the bridge) and enter one of the codes on this page. Note that some codes are intended for specific pre-order or collector's editions.